Drama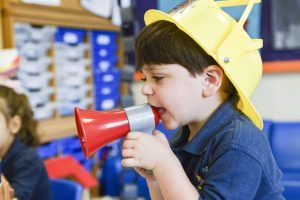 On a Tuesday morning we have a drama teacher who works with our three classes of 4 year olds.
The drama sessions are linked into the topics the children  are covering.
The drama lesson is not supported by props, it is about the children becoming the character and using their imagination to create the story.
On a Thursday after school our 3 and 4 year olds have a drama class which is optional and extracurricular.
Summary of a Lesson
Specially tailored drama workshops which work on the 4 C's – Confidence, Concentration, Communication and Coordination.
Original music and movement exercises, all especially designed with child development at the heart.
Clear focuses at the start of each lesson that can be shared and followed up by the nursery and the parent
Each week we have a particular focus for instance, 'greeting new people' and 'confident voices.'
Classes are broken down into three specialised sections including, Move and Feel, Listen Speak and Sing and Create and Imagine.