PE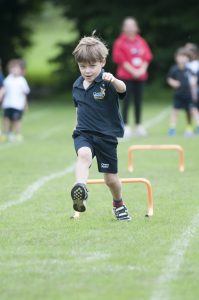 Challenge Sport and Education are Clowns Nursery's Sport providers. We currently run both in school and extra-curricular sporting activity for the children.
Lessons are held over four days of the week and continue during half term and 'holiday' weeks. All PE lessons at Clowns are structured around the EYFS curriculum.
Every session we run develops gross motor skills and is designed to improve the children's co-ordination and confidence. In our lessons we focus on a variety of sports to help develop the children's motor skills.
The children will be learning fundamental skills for sports such as throwing and catching whilst also playing participating in sports like gymnastics and football. The lessons are always fun and engaging for the children as well as educational. A typical gymnastic lesson will consist of developing balancing, rolling and finding space, whereas a football lessons will be working on dribbling, passing and shooting. At the start of every lesson the children will be told the learning aims and then work on different skills to help achieve these.
As well as in school lessons we offer extra-curricular lessons on Wednesdays to help develop children's gross motor skills even further. These classes are designed for children who are enthusiastic about sport and for children who have may have never done sport outside of nursery before. The classes will cover a range of different sports and are guaranteed to be fun based.