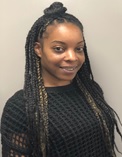 I have been working in Clowns since 2008 with a lot of experience teaching in Early Years. I am passionate about every child having the opportunity to reach their fullest potential whilst learning and encouraging the children to be successful learners by identifying what each unique child knows and can do which I believe is the foundation for early years practice.
As a class teacher, I strive to make each teaching activity a fun an engaging experience with rich learning opportunities through play and active learning.
I particularly enjoy teaching literacy (storytelling) which encourages the children to embed their imagination and creative skills in the classroom and garden.