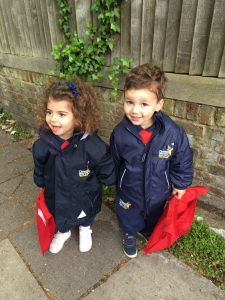 Uniform items can be purchased from Reception
Parents are asked to provide a complete change of uniform to be kept at the nursery.
Please ensure ALL items are labelled and packed in the blue shoe bags.
Shoes must either be Velcro or buckle fastening – no laces!
Children will be changing for P.E. after the Easter holidays and are required to wear navy shorts / cycling shorts, white t-shirt, ankle socks and plimsolls.
If nappies are being used please provide a minimum of 5 for each full day's session.