At Clowns our aim is to provide children with healthy, balanced meals using a wide variety of quality ingredients that are colourful and exciting for the children. Children are offered fresh fruit and vegetables daily, milk is offered at snack time and water is available to the children throughout the day. We also cater for special dietary needs.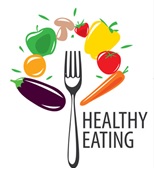 Our menus are made up of 4 main components as per the government guidelines;
Starchy foods – bread, potatoes, cereals,
pasta noodles and rice.
Non-dairy sources of protein – fish, beans and pulses
Milk and dairy – milk, cheese, yoghurt and custards
As well as encouraging healthy eating and developing the choices the children make with regard to their eating habits we also promote the importance of the social aspect of eating together.  The children eat meals in groups, help to lay the tables with different utensils and equipment given to them to use as their age and confidence increases.  The older children serve their own meals, and all children help to clear away once they have finished eating.
Fresh fruit and vegetables are given daily and our menus change with the seasons. In addition to the different food we offer, we also incorporate specific foods to celebrate different occasions and festivals throughout the year.